Simplify a zero-carbon lifestyle
Zerofy first helps you measure your household's carbon emissions automated and in real-time. You can then reduce carbon emissions by switching to low carbon energy and products.

Join the Android waitlist
New: reduce emissions with solar energy
Lease panels with Zerofy Shared Solar, save CO2 and earn money.
Measure and understand your household's CO2 emissions
Zerofy tracks your emissions with the least effort, and is highly automated. Understand what the main sources of your emissions are and see patterns over time.
Explore daily, monthly, yearly charts with breakdown by category (home, transportation, food, consumption).
Transportation emissions are logged automatically by using your mobile device's motion and recognising the type of transportation (car, bike, plane etc.). You can even configure your specific car model.
Automatically estimate emissions for goods and services purchased, based on your card transaction's category and spending amount. (Connecting your card is optional.)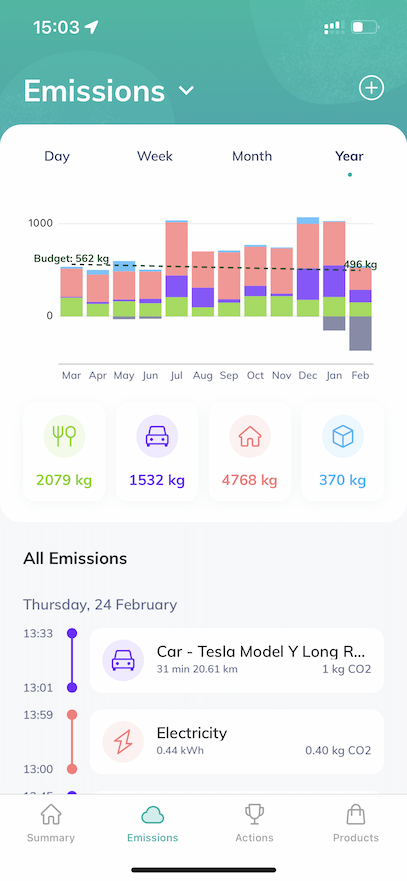 Reduce emissions with green energy and energy efficiency
Reducing the use of fossil fuels in electricity, heating, and transportation is a big lever for CO2 emissions reduction. Zerofy helps you in this transition, both lowering emissions and increasing energy independence for your household and country.
Become a green electricity producer by investing in our solar farms. This way you produce green energy, save money, and reduce emissions.
Use smart appliances to wash and bake when energy is greenest.
Switch to driving an EV and charge when energy is green.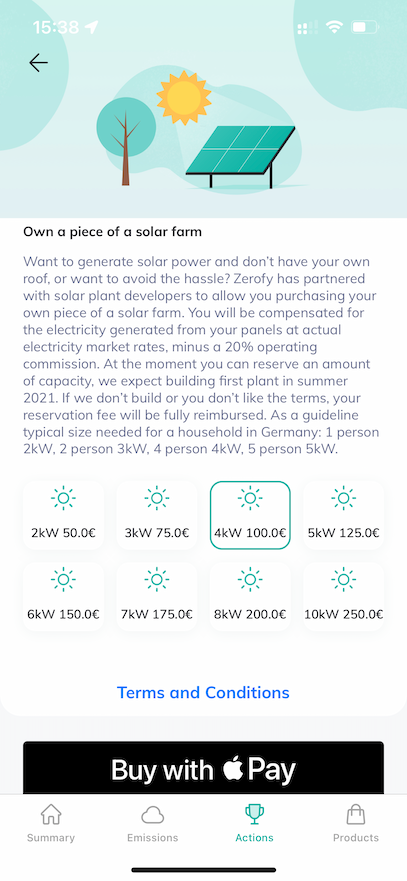 Take action by optimizing your lifestyle
Set a target year by when you'd like to hit zero emissions, and zerofy calculates and tracks a decreasing CO2 budget to hit 0 at that point.
Zerofy suggests personalized actions with the highest impact.
Get awareness on which habits matter and see the effect on a daily basis.
See how you stand compared to your emissions target and budget.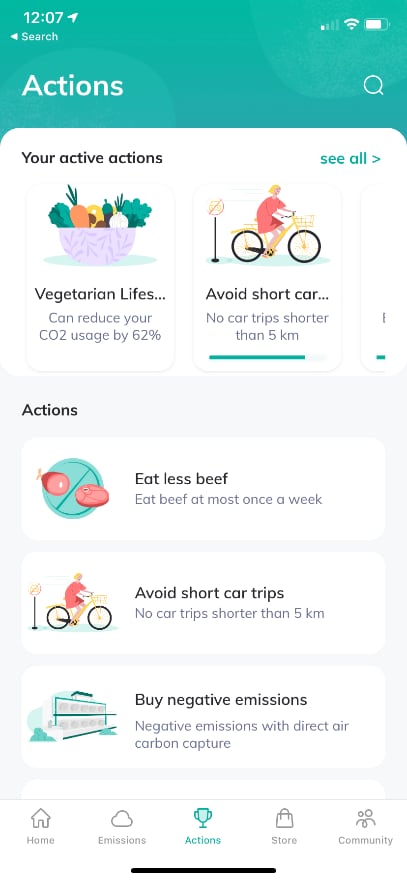 Discover low-carbon
products and services
Zerofy helps you reduce your household's carbon emissions by introducing lower carbon alternatives to the products and services you use.
Products for reducing energy and water use without sacrificing quality of life.
The latest EVs and electric bikes.
Selected other consumer goods in fashion, food, etc.