Everyone can be a solar energy producer
With Zerofy Shared Solar you can rent panels at our solar park to produce and sell your own green energy and reduce CO2 emissions.
Why Zerofy Shared Solar?
Zerofy Shared Solar is the easiest way to get started with solar electricity production, reduce CO2 emissions, and earn revenue. And even if you already have rooftop solar, it allows you to expand your portfolio beyond what you have installed on-site. It's solar, without the hassle.
Reduce
CO2 emissions
Deploying green energy is one of the most effective ways to reduce greenhouse gas emissions. With the panels rented from our solar park you generate additional green electricity and feed it into the grid. This replaces grid electricity from fossil fuels and thus reduces CO2 emissions.
No home installation
needed
Zerofy Shared Solar is ideal if you can't install solar at your home because you live in an apartment, rent, or encounter building code constraints. Even if you already have solar installed, you can generate additional electricity with Zerofy Shared Solar.
Protect against high electricity prices
If electricity prices increase, you will pay higher utility fees. But if you have rented panels in our solar parks, the proceeds from your panels also increase. This way you protect yourself against increasing energy prices, as the higher earnings offset some of your increased utility costs.
Earn money from green electricity
The electricity your panels produce is fed into the electricity grid and sold on the electricity market. The proceeds (minus a 20% operating commission) belong to you. This means by leasing our solar panels you save CO2 and earn money.
Contribute to energy independence
Building out renewable capacity helps increase energy independence for Europe as a whole, and the individual countries where our solar parks are located. With your rented panels you make a direct contribution to this important effort.
Real-time CO2 savings and earnings in the app
Zerofy shared solar is deeply integrated with the Zerofy app. Avoided CO2 and earnings from electricity sales are shown right in the app and in real-time for all of your rented panels.
Integrates with the Zerofy app
Your rented panels are connected via the Internet Of Things to Zerofy. You can see real-time production data from your panels right in the Zerofy app under your account.
Access electricity production, avoided CO2 emissions, and earnings in the app in real-time, and with weekly, monthly, and yearly summaries.
Lease panels and manage your portfolio of panels directly in the app.
View a live webcam feed from the solar plant, plus more great features.
Real-time electricity production, CO2 savings, and earnings right in the app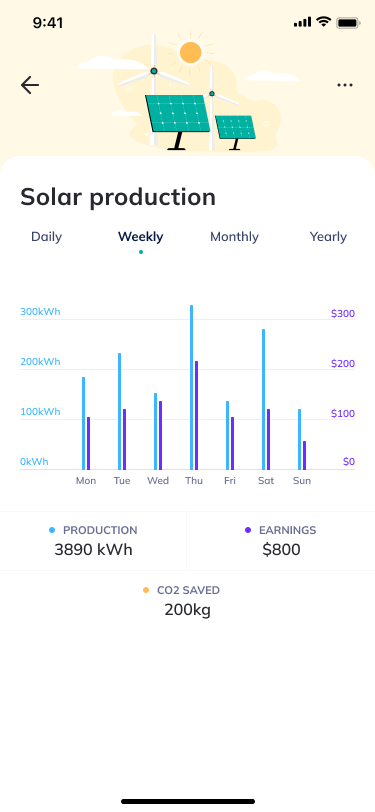 Track CO2 savings with hourly granularity
As a world first, we calculate avoided carbon emissions at hourly granularity as opposed to yearly averages, as is common for green utility plans or offsetting products. This difference is crucial, as solar production is lower but also more valuable in winter.
Calculates for each hour the electricity production and avoided carbon based on hourly carbon intensity difference to the grid's electricity carbon intensity.
Avoided carbon shown as negative emissions in the Zerofy app.
Real-time carbon intensity and savings in the app.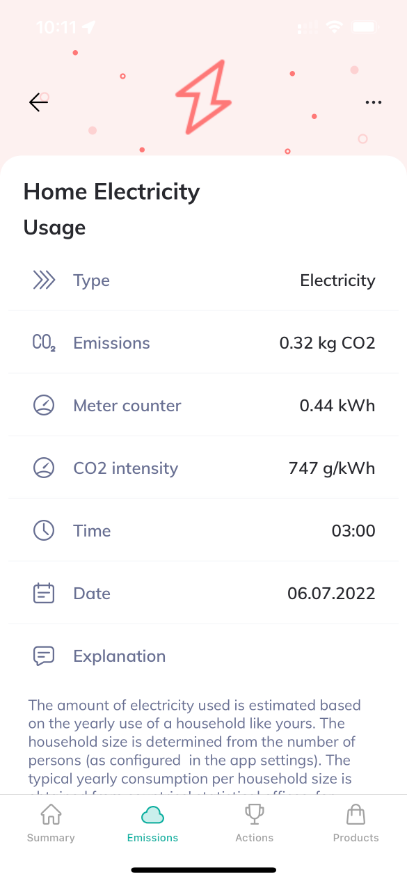 Current projects
Our current project is a pilot solar park consisting of 162 panels (67kW total) for rent. It is located in Kändliku, Estonia, and is expected to produce approximately 57MWh of electricity per year. The solar park is fully installed as of October 2022 and connected to the grid. Production of user's panels will be visible in the Zerofy app from February 2023.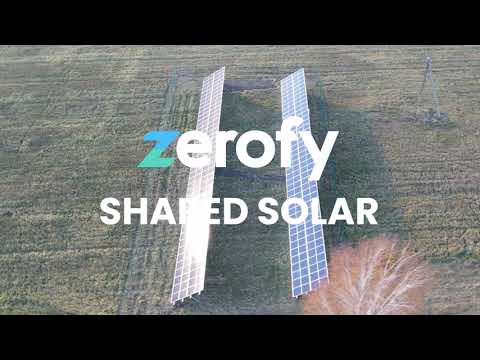 The rent per panel for 25 years is 400 EUR.
Select the number of panels you'd like to rent now:
The numbers
These are the numbers for Zerofy's Shared Solar pilot in Kändliku, Estonia. The table below shows CO2 savings achieved per panel, and income per panel for different future electricity price scenarios[1].

How many panels should you get?
Scenario
Number of panels
Yearly general electricity for a 1-person household (2000 kWh)
6 panels
Yearly general electricity for a 2-person household (3000 kWh)
8 panels
Yearly general electricity for a 4-person household (4000 kWh)
10 panels
Electricity for 10'000km of electric vehicle driving per year
4 panels
CO2 avoidance corresponding to one European round-trip flight per year
2 panels
The impact
Zerofy Shared Solar differs from buying a green electricity plan, or buying a carbon offsetts.
The impact is very direct, as the project is only built because you invest and rent the panels. This concept is known as additionality. Additionality means that a given project would not have happened anyway even without your investment. We also don't sell any carbon credits or certificates of origin for the solar plant. If we did, you couldn't claim the carbon reduction for yourself.
In contrast to green electricity plans, which calculate the electricity generated (and CO2 saved) on an annual basis, we calculate it on an hourly basis. The key difference is that over one year, a plant may generate a surplus in summer, but a small amount in winter. This production pattern does not align with the actual consumption pattern, which is even over the year, or even higher in winter. If you're based in Estonia or in Northern Europe, since the electricity from your panels is fed directly into your (Nordpool) grid, you can also consume it yourself.
Finally, to the best of our knowledge Zerofy Shared Solar is also the only carbon "offsetting" project that earns you money back.
Still thinking?
Join our mailing list to stay in the loop about our solar pilot project status and upcoming projects.